Featured Artists:
<< back >>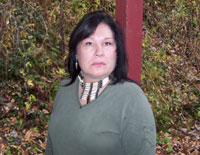 Phyllis Maille



Location: PO Box 294-Hancock, NY-13783


Phone: 607-637-2339


Email: nakota@hancock.net



Phyllis Maille is an illustrator of the human form with an ability to render North American Indian people in a warm, traditional manner.  She is a graduate with a degree in Fashion Illustration and Clothing Design from Parsons School of Design in New York.  Her artwork is in many private collections and is in the permanent collection of the Smithsonians' National Museum of the American Indian on display at the Customs House in New York City.

    She is an enrolled member of the Prairie Assiniboine tribe of Fort Belknap, Montana.  Phyllis has appeared in a documentary on PBS and American Indian representatives to the White House have worn her ceremonial shirts.

    Phyllis follows the traditional native path of her ancestors who practiced the Sun Dance Way.  She honors the Grandmothers and Grandfathers by portraying her people through art.




PO Box 2190 - St. James, NY 11780 - 631.862.2808 - 1.800.981.2808
©2023 Artpix Studio