Featured Artists:
<< back >>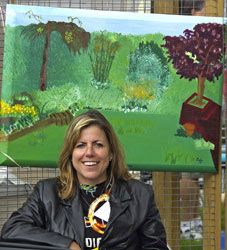 Linda Schneider



Location: Lido Beach, NY


Phone: 516 - 432 - 2806


Email: linda892@yahoo.com


Website: http://www.lrsgallery.com



Studied briefly at Parson's School of Design in NYC. Pregnant with twins pursued art at home, designing children's clothes. Making more Ninja Turtles and Little Mermaids then Linda cares to remember, she became a serious artist in 1994 after her first oil was created. Her first Fine Art Show in 1994 "Clear View" was a contender for the top prize. Encouraged, Linda has since produced prints of several pieces and has sold her artwork. Her other three pieces on display were created after visiting the scenes. At first in her mind she transposes freely onto the canvas.

All Prints are available on 100% cotton-rag paper or canvas. For canvas prices, please double print price.

Linda is also the owner of LRS Gallery. It is located at 7A North Park Avenue Rockville Centre, NY 11570. (516) 536-6886 or (800) 726-6708. LRS Gallery exhibits well known artists such as Stephen Holland, Fabian Perez, Michael Godard, Brian Davis, Andrew, Garmash, Segal, Todd Warner, and others. Complimentary art consultant and expert framing available.




PO Box 2190 - St. James, NY 11780 - 631.862.2808 - 1.800.981.2808
©2023 Artpix Studio